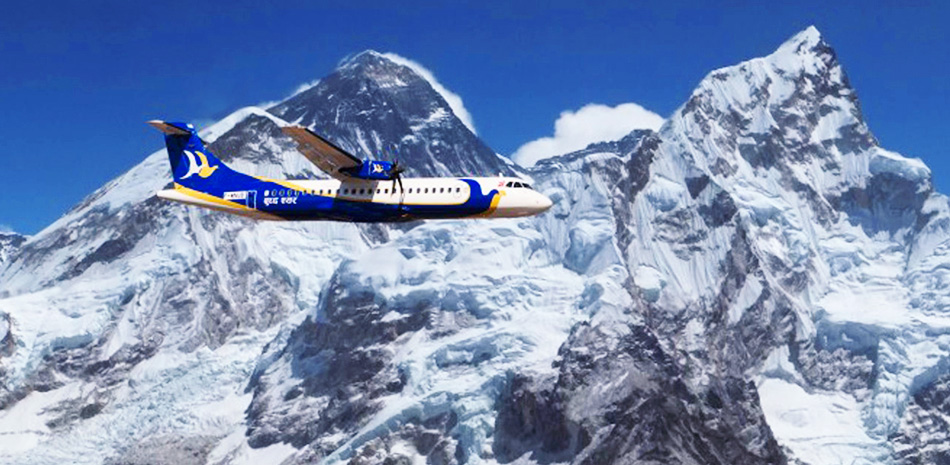 Mountain flight experience
Home > Blog > Mt Everest – Nepal Mountian flight experience
My First Mountain Flight experience was happened on a December period . I was at Nepal for hosting a Conference at Kathmandu ,so it was a hectic  02 nights  and on 03rd day we  planned to go for a Mountain flight experience . After all, a trip to Nepal would be incomplete without truly understanding what really makes it beautiful. Visiting the highest peak was my  years  wish , and literally was not able to sleep the night as I was so much excited .I stayed at Shangri-la hotel Kathmandu . Woke up at 0400 am as I need to reach  at airport at 0500 am . The taxi  came on the right time and picked me and reached on time at Tribhuvan airport . Check in and boarding pass was issued with out any delay .Overall the airport was very old and out dated .We had a Coffee and  waited for the call from airline with  highest mode of excitement .
There are many airlines operating daily fly to mountains like Buddha air ,Shree airlines ,Yeti airlines  , depending on the  weather conditions  they fly regularly at morning .The best part is that if we  have to discontinue the operations  like if the flight returned due to bad weather  you will get the full refund of the ticket cost .Our flight was Buddha air  at 0600am  ,we were called at 0545 am and we checked in comfortably . we were the only two Indians with all other Chinese guests and one thing I was really surprised was almost all of the guest from china was senior citizens and the group was really enjoying their trip  and it was very interesting watching them .The aircraft  was 19 seater 9N-AMD ATR 72 and it was quite ok aircraft with fresh and good looking interiors .The cabin crew greeted us well and guided to our seats .
The airlines choose early morning time because this is the best time to give you the best chance to see the mountain in clear conditions. This 19 seater aircraft  assure us  all window seats  and it was very comfortable that  we could keep our accessories beside us since we don't have to share the seat with anyone .The aircraft had  large and clear windows to provide best views of the Great Himalayan range and give us an excellent opportunity to photograph the mountains and to keep our memories fresh for ever .
The flying time  are  50 minutes and While on board,  we will receive a 'Himalayan Peaks' map from the cabin crew , This map contains information about the different peaks you will see during the mountain flight. You will also get a briefing from flight attendant of the visible mountains while   flying at an optimum altitude between 20000ft to 25000 ft . The flights fly at a best level that every passenger could satisfy his expectations with the pleasure of mountain views .
My heart was beating high as we were reaching the mountains as for this opportunity I was waiting years and at the same time I could hear the cabin crews briefing about the mountains . The mountain range is commanding, inspiring and breathtakingly beautiful as we reached towards it . This is a once in a life time experience, Don't miss it if you get a chance .I can promise you all It is worth the money spend. We were also allowed into the cockpit one by one. The co-pilot took great pictures with our cameras. Everyone was given a chance to do it twice, there are plenty of opportunities to take lots of photos. The Himalayas and Everest are a must see and should be on everyone's list of things to do. The pilot makes commentaries of the different high mountains and the air hostess runs along with pictures and references which will let you know of the different mountain peaks.
Awesome , Wonderful and  Superb , Once a lifetime experience ,Buddha Air Rocks …. I had seen such an amazing view of snow clad Himalayan peaks and very lucky on that day not even a single cloud was covering any of the peak
Everyone gets a window seats, means everyone can take pictures. Don't panic if you are not on the "mountain side" on the way to Everest, you'll be on  the mountain side on the way back when the plane  turns back and you will get the same chance to take great pictures. You will see not just one or several mountains ,its a whole widespread range of mountains.
For all who plans for a mountain flight to Everest from Nepal please note – The flights  fly only if the visibility is good, Please bear in mind that these trips can be delayed/cancelled at very short notice due to the weather conditions at the airport or at the mountains, the weather may look great in Kathmandu but it can get very windy at 25000 feet, so for safety reasons the plane will not fly, Many got to go at  2nd attempt or 3rd attempt. Even if the views are not clear due to clouds and bad weather the flight will return back .As I said earlier you will get full refund of the money .The flights operate daily from 600 am – 0900 am daily  and the cost in napalese currency is NPR1100 and Indian currency INR 7000 approx. We were back to airport on time.
My sincere thanks to Buddha Air ,for giving us  fabulous experiences  and heart melting views .Overall the flight was comfortable  and hassle-free. Buddha air is very reputed organization ,they work very professionally, they fly with all safety measures ,so I recommend everyone who wish to see Mt Everest can experience this mountain flight  and the divine and celestial beauty of the Himalayan range.